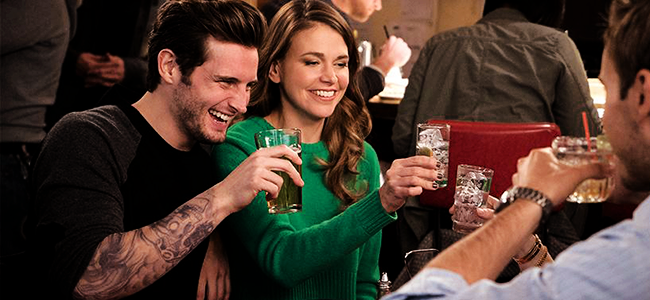 Exclusive! Interview with US Magazine 'Sutton Foster Chemistry'
Age may be just a number, but it's no secret that Youngers Liza is a lucky lady! Nico Tortorella plays the hunky tattoo artist, Josh, who went from fling to forever on TV Lands new series. The token hottie on the breakout comedy comes from a background in TV, getting his first big role on ABC Familys Make It or Break It before moving on to a recurring spot on Foxs The Following and a part in 2011s Scream 4.
Now hes a series regular on this summers clever (and insanely sexy) new show, which stars Broadway legend Sutton Foster and Disney alum Hilary Duff, to name a few. Josh is the twentysomething stud who wins the heart of Liza (Foster). Unfortunately, shes a 40-year-old woman posing as a woman in her twenties, and as fans saw on the June 2 episode he ends up finding out.
So what does the future hold for Losh (Jiza?)? Tortorella, 26, exclusively spoke with Us Weekly's Rachel McRady about his character's complicated relationship and this seasons finale:
Us Weekly: In the latest episode, Liza tells Josh the truth about her age and he walks off. Do you think theyll be able to work through it?
Nico Tortorella: I mean, I hope so, you know. Its a big lie that was revealed and yeah, he was high on ecstasy when it happened, which was a major buzzkill. You know, it sucks. It sucks whenever that happens, however that happens. I dont know, I think that come the last episode, the two of them will be able to have a conversation about it and see where it goes from there.
Us: Why do you think she chose to tell him first?
NT: I think that their relationship has clearly taken it to the next level. Especially with both of them saying I love you to each other. And I think that being high on ecstasy it made it easier for her to say that to him. I think that she has a lot less to lose telling me that shes 40 than at work, as of now. And it was just the right time, maybe not the right place, but it was the right time.
Us: A couple episodes ago, Josh got a tattoo for Lizas birth year. Do you think hell resent her more for that?
NT: I mean, I have tattoos that Ive gotten for people and some tattoos I wish that were a little bit different, but at the end of the day they all represent something very specific. He may resent it a little bit, but its just another page in his journal of work.
Us: Whats the craziest thing youve ever done for somebody youve liked or loved?
NT: My best friends on and off-again girlfriend, we have a few tattoos that go hand in hand. I have this big bee tattoo on my hip and she has this big monster flower that goes up her back. When we stand next to each other, its a bee going to the flower, which is so gross/cute, but its amazing.
Us: Would you ever consider dating an older woman?
NT: Yes! Ive dated tons of older women. When I was 19 I was dating a 33-year-old for a couple years and shes still one of my best friends. I love her dearly. Ive dated way older than that too. I dont really look at age as a thing. As long as you can connect with somebody on a soul level, it kind of doesnt mean anything.
Us: Do you think Josh feels the same way about that?
NT: I think that he would date an older woman. I think that that conversation is kind of meaningless at this point because hes not just dating an older woman, hes dating a liar. This woman has been lying to him for how many months now. That changes everything. If she would have been honest with him from the beginning, it would have been a totally different story.
Us: Whats the biggest lie youve ever told someone youve dated?
NT: Im not a cheater at heart, but I cheated at one point and I told her that I didnt and then later on it came out and I confessed to the fact that I lied about it, and it did not end well for me. I came to terms with it myself and told her at the end of the day. Lies in general are just no good. The world would be a much better place if nobody lied about anything.
Us: Whats it been like working with Sutton Foster?
NT: Shes incredible. Honestly, when I first got cast in the show, I had no idea who Sutton Foster was. Come to find out, shes this two-time Tony Award winner and has done all of these amazing things. We have this chemistry from the beginning. Shes just such an amazing woman on-screen and off. Shes probably the easiest person Ive ever gotten to work with.
Us: You guys have had some pretty racy scenes, especially for TV Land. Whats it like breaking those barriers?
NT: Its been great! I think it was episode 4 that we first had sex, [Sutton] hadnt ever done a sex scene on camera before and I had done a couple. And she was like super nervous about it, but at the end of the day, its just work and we just had fun with it. It was all relatively P.C., but its definitely been fun pushing boundaries — we have drugs, we have sex.
Us: What kind of feedback have you guys gotten from some of those scenes?
NT: Honestly, nobodys really said too much about it. Its kind of the norm on TV these days, its not that shocking. Theres been a couple older women on Twitter that arent okay with it on TV Land, calling it porn. But this is TV Lands shot at bringing in a younger audience, pun completely intended.
Us: Youve also gotten to work some with Hilary Duff in her big return to TV. Whats she like to work with?
NT: Great! She has a house in Brooklyn. She also has Luca, her kid, with her. Shes just a mom working in TV, coming back at it with her music career going. I grew up on Lizzie McGuire, so its awesome working with her. At the end of the day, shes just a normal girl.
Us: Thats awesome! Were you crushing on Lizzie McGuire back in the day?
NT: Oh, totally! Toootallyy!
Us: Thats hilarious. So what can fans expect from next weeks finale?
NT: Just some really good resolution with Liza and Josh. Theres a great scene where the two of them come together and discuss what the situation is, what the situation was, and the possibility of what the future holds. It could easily go either way. I just think that love is a weird thing and it makes people do weird things.
Us: We were really excited when Younger got renewed for a second season. Will you be back for Season 2?
NT: Josh will be back. We start up in September.
Source: US Magazine